Ryan Laylin and Samantha Overmyer met at the American Legion Post at a Christmas party, Samantha was the waitress for his table and thought that Ryan looked cute in, what she thought, was his police uniform. He offered to buy her a Budweiser while he was drinking a Bud Light and she commented that his was a "sissy beer." That broke the ice and started the conversation for the rest of the evening. Ryan left Samantha a $14 tip, but she never heard from him again until a mutual friend got them both together again. And they have been together ever since!
Ryan proposed to Samantha at a get together with family and friends in a barn. He did it the old fashioned way (and the way we like it) by getting down on one knee and asking her to marry him. And what was Samantha's answer? Well, it was "duh!" Which, obviously, Ryan understood to mean: "Yes! Yes! Of course I will marry you honey!" At least that's what we like to think anyway.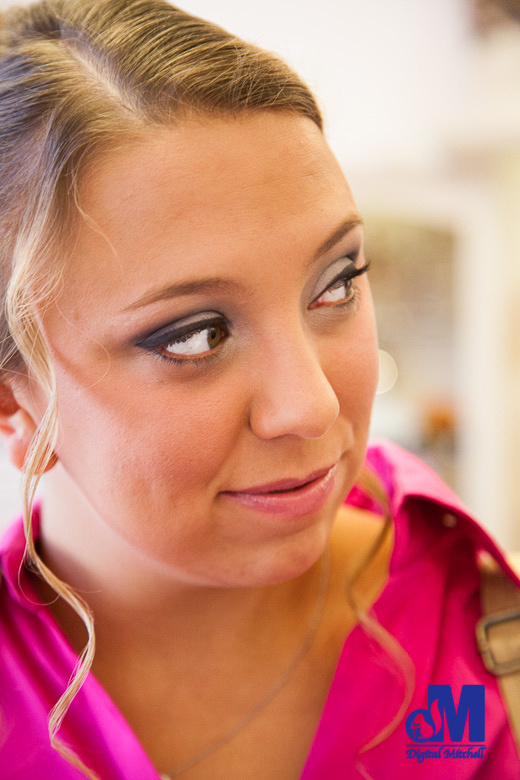 Just love those eyes!
Makeup done by Camellias
We love taking this shot, where we see both the brides lovely face and her new hair style.
Hair Styles by Salon Fusion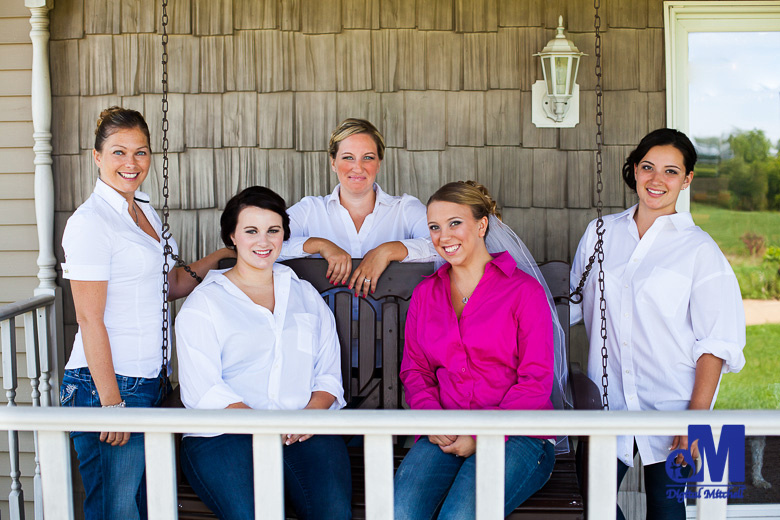 We just love it when our bridesmaids wear white and our brides wear color so they stand out in group shots.  Love that shirt!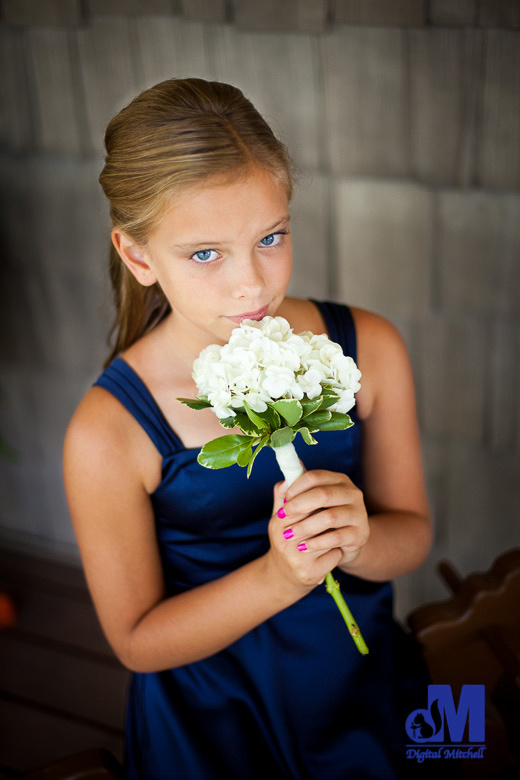 Such a lovely flower girl, we did not pose he, she just happend to be watching the other girls and we looked
over and we were able to capture this wonderful image of her.  It does pay to be attentive to your surroundings!
Bridesmaids just can't help but help Samantha with her dress, especially that cute one on the left.
Samantha and her bridesmaids, they never left her side.
Samantha showing a little leg and a lot of her two garters and a lovely smile!
The wedding was held at Samantha's father's estate in Dowagiac, Michigan that,
in addition to a lake, has this scenic pond, perfect setting for the wedding.
Samantha and her Dad look so happy walking down the isle.
In keeping with "put into play wat you practice," below you can see
that the groom practiced what he did, and did what he practiced!
Did anyone hear the minister say "you may now kiss the bride?"  Well, Ryan sure did!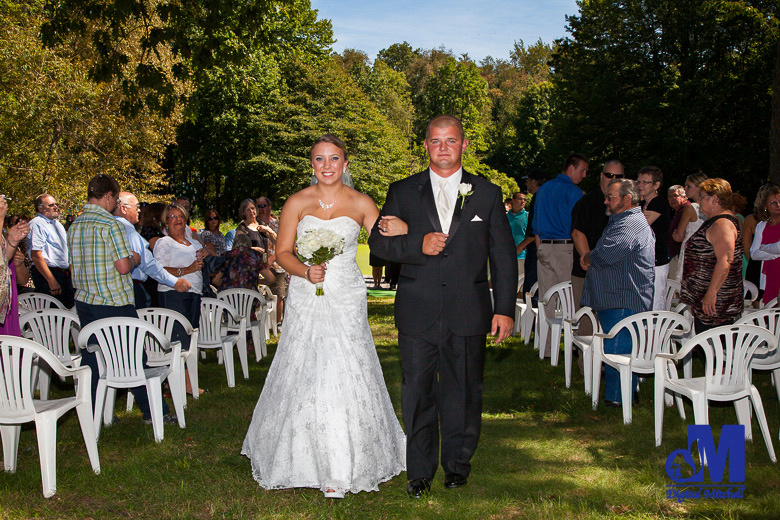 Such passion and love between these two, that is why Dawn and I love photographing weddings!
From flowers to garters to hair and her dress Samantha was a beautiful bride!
Samantha and Ryan make a wonderful husband and wife, don't you agree?
We just love the detail on this cake.  We would not have the patience to do all that.  🙂
Cake by Martins
Dawn and I always like to have some fun with our brides and grooms, no none wants a "stuffy" wedding,
so we love to capture the lighter side of what happens in and around weddings!.
I think this is a good use of a pool table, and it only cost us a $1.
Taken inside the Wounded Minnow Saloon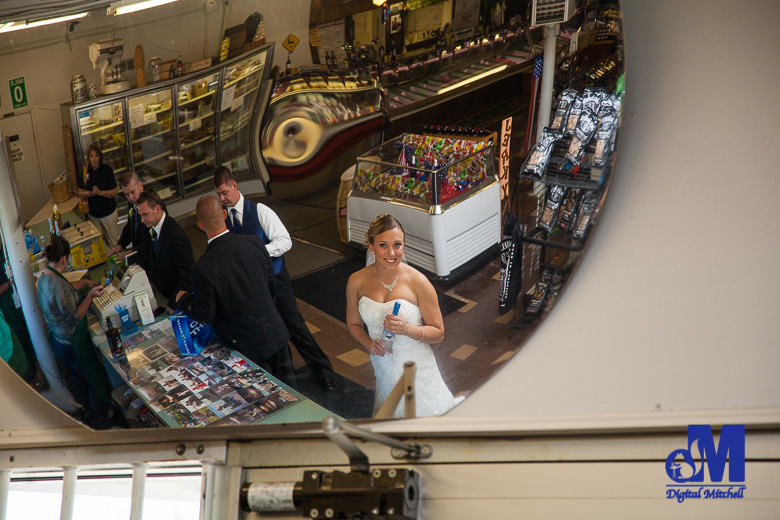 When you run out of "adult beverages" in the limo, you have to make a pit stop at the nearest liquore store.
Thanks to Vlasicak's Meat Market & Smokehouse
Don't ask, we don't know what he is planning on doing with that chain!
We did not put them up to that, not at all!  …But we are glad they did!
Dawn and I wish Samantha and Ryan the best in the future, and hope to see more of them because they are such fun people to be with!